Sustainable IT Lifecycle Management
Novastar has the staff, facilities, and expertise to offer complete, sustainable IT Lifecycle Management. We tailor our services to help businesses mitigate costs on large IT deployments, while recovering value from retired assets. Further, we're always ensure that end-of-life electronics and their components are handled safely to protect workers and the environment.
IT Asset Management (ITAM)
Acquisition
Assess client's IT needs
Configure new or refurbished hardware
Deployment
Shipping, storing, unpacking, asset tagging
Software: image management, load and testing
White glove delivery
Installs and redeployments
Remove packaging
Certified repair and maintenance
Retirement
Uninstall equipment
Lease termination at pick-up
Audit, test, disk wipe or destruction
Refurbish and appraise
Remarket to recover asset value
Certified e-waste disposal
R2 and zero-landfill policy
Asset Management
IT asset database
Tracking and reporting
Asset Management and Tracking
Asset are tracked throughout the IT lifecycle process. Asset tracking may be provided via reports or a continuously updated customer portal, depending on your needs.
IT Asset Disposition (ITAD)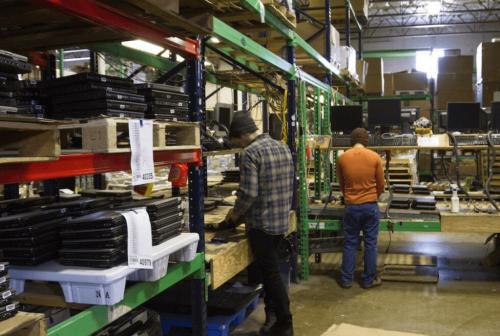 IT Asset Disposition (ITAD) Services
Novastar offers a complete IT Lifecycle solution by managing new asset acquisitions, logistics, imaging, installation, maintenance, and end-of-life (or lease) options for your IT assets. We provide a true cradle-to-grave solution and recover value whenever possible throughout the process.
Novastar's customers rest easy knowing their used IT assets are being handled in the proper manner. Every asset has a known endpoint.
We are ISO 14001:2015 and OHSAS 18001:2007 certified and have a zero-landfill policy.
These certifications are maintained through our Environmental Management System (EMS) and rigorous certification processes. Our remarketing services have minimal effect on the environment and comply with all related laws, regulations, and requirements. Being a Microsoft Registered Refurbisher further enhances our service offerings, providing maximum remarketing value to our clients and partners.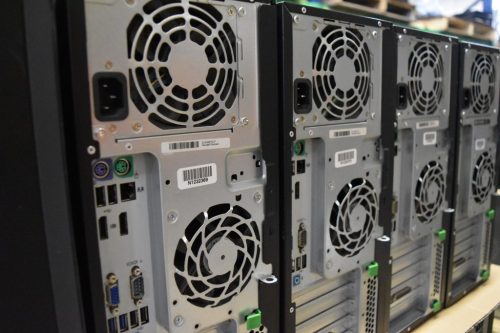 Asset Recovery and Remarketing
Novastar has helped numerous businesses, financial institutions, and government agencies recover value in their aging IT assets from
Merger, Acquisition, or Closure
System Upgrades or Refresh Projects
End of Life
Off Rental or Lease
Customer Returns
Project Cancellation
Excess Surplus
Reverse Logistics
Whether it's PCs, laptops, tablets, consumer electronics, printers, servers, or storage, we understand the value in everything IT. Our unique remarketing program is tailored to suit your needs, ensuring you are receiving the maximum possible value for your equipment.
Reverse Logistics
Novastar's reverse logistic capabilities help manufacturers, retailers, and third parties recover value from
Customer Returns
Overstock
Closeouts / Clearance
Open Box
Distressed / Damaged Packaging Goods
By marketing direct to the consumer, Novastar maximizes recovery value while minimizing costs, i.e., warehousing, auditing, and transportation logistics. With a zero-landfill policy, every asset has an endpoint. Rest assured your assets are being handled properly.
ITAD Services
Novastar Solutions provides a complete, single-source solution that turns our clients' used IT assets into cash.  Our IT Asset Disposition (ITAD) services include:
Warehousing and Inventory Management
Audit and Testing by Certified Computer Specialists
Low Level Secure Data Erasure to NIST 800-88 and U.S. Department of Defense DoD 5220.22-M Standards
Equipment Appraisal and FMV (Fair Market Value) Price Quotations
Management and Logistics for De-Installation of Equipment
Voluntary Surrender Repossession
Environmentally Compliant Disposal (R2 (Responsible Recycling), 14001:2015, and OHSAS 18001:2007 Certified)
These ITAD services are customized to meet the unique requirements of each customer and are created to maximize return on investment.
Value Add Process
Novastar Solutions has the ability to manage the de-installation and logistics of your equipment from your location to ours, from anywhere in the United States and Canada. Upon arrival, assets are tracked by serial number, audited for condition, functionality, and recovery value. Equipment is thoroughly cleaned and all non-OEM identifying labels are removed to ensure customer privacy.
Upon audit completion, a full audit report is furnished to the client (typically within 5-10 business days) which includes detailed asset information including serial number, make, model, configuration, condition, functionality, and estimated recovery value. These audit reports can be customized to suit your needs or automated integration requirements.
Equipment is securely stored in our warehousing facilities which are equipped with security systems consisting of, but not limited to, video surveillance cameras, motion detectors, wired doors, and a fire sprinkler system.  Novastar Solutions is fully insured and bonded.
NIST 800-88 and U.S. Department of Defense (DoD) 5220.22-M standard low-level wiping and/or data destruction is available upon customer request, with certificates of data destruction. The certificate will include the serial numbers of the storage devices wiped or destroyed as well as the system serial number denoting where they came from (when applicable).
Why Novastar ITAD?
Sustainability is at the core of what Novastar strives to achieve. Our focus is to retrieve value wherever possible when remarketing equipment on behalf of our clients. Over 95% of the remarketing equipment processed is resold on the secondary market, ensuring maximum value for your assets. If an asset is deemed defective, it will be disposed of properly in accordance with local laws and regulations.
Novastar  requires its downstream electronics waste partners to use EPA approved standards, and provide certificates of destruction. Annual audits are conducted of our downstream providers with Novastar personnel inspecting our waste management partner's facility.
Questions?
Ask us about our IT products and services.